Since 1968, Community Change Inc. has served as a community for white people and their multiracial allies to come together to learn about systemic racism and to fight against it. To dismantle the oppressive ties of whiteness that threatens both white and non-white humanity. Our programming has always had a learning component because learning is central to our core work.
In recent years though, as talk of white privilege and  institutionalized racism has become increasingly mainstream. It is clear that CCI's role has needed to shift as a new generation of anti racist activists are coming into their own especially in the era of the Black Lives Matter movement.  
Recognizing that new technologies allow for anti-racist learning to occur in far more locations than our traditional programming has been able to reach, CCI is moving into the role of a legacy organization supporting the work of emerging white anti-racist activists and groups organizing within the greater Boston area. These groups are official programs and affiliates of CCI that are working hands-on with people to dismantle institutionalized racism. We now call our core programming "The Work" as this is the work that is needed to create the changes that CCI founder Horace Seldon envisioned in 1968. All programs work under the guidance of CCI leadership and are accountable to CCI values and mission as well as making sure that whenever possible they are celebrating and following the leadership of Black and Non Black People of Color and working together when feasible. While some of the emerging programs are ran solely by CCI staff, others are ran with CCI oversight but function autonomously in their day to day operations.
The current list of programming (this list will be updated as new programming comes under our umbrella)
Boston Knapsack Anti-Racism Group: This initiative of CCI was created by staffer Myrna Morales as way to introduce CCI's work to a younger generation of people who see racism as a white problem and/or are interested in learning about the systemic role of whiteness in our society. The Knapsack meetup group hosts weekly events with the majority of them held at CCI.  For more information on Knapsack events and to sign up for events, please go to the meetup site.  The Knapsack group is governed by a leadership team that meets regularly to plan events and discussions in consultation with CCI.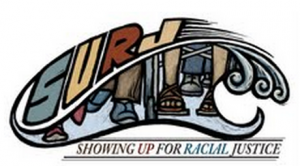 Showing up for Racial Justice-SURJ Boston chapter
SURJ is a national network of groups and individuals organizing White people for racial justice. Through community organizing, mobilizing, and education, SURJ moves White people to act as part of a multi-racial majority for justice with passion and accountability. We work to connect people across the country while supporting and collaborating with local and national racial justice organizing efforts. SURJ provides a space to build relationships, skills and political analysis to act for change. SURJ has emerged as a national leader in mobilizing white people to action and, in the summer of 2015, CCI made the decision to become the Boston affiliate chapter of SURJ. This relationship allows CCI to have a direct pathway for white people to activate beyond the learning process to taking action in their communities as well as responding to the needs in Boston.
SURJ-Boston is housed within CCI and operates with an internal team "steering committee" comprised of 6 people who rotate positions, and the group operates under the direct guidance of CCI staff. The group currently meets monthly; for more information, please contact CCI directly and don't forget to look at the calendar for meeting dates and times. For more information please contact us at: SURJ@communitychangeinc.org
Visit the SURJ-Boston website for more information. For meeting information please visit our Event Calendar or our Facebook page.
Racial Justice Brunch Group: A monthly gathering of white people coming together to create a community that supports white people working to dismantle whiteness. Please check our calendar or call CCI for dates and location.
We are continuing to add programming, the best way to stay up to date is to get on our mailing list. 
White People Challenging Racism: Moving from Talk to Action: A 5-week grassroots course that brings people together to examine white privilege and racism in order to galvanize them to anti-racism action. 
Course description: People of all heritages/identities are welcome to join us as we focus on the role of white people in dismantling racism and building a just society. We'll examine the impact of white privilege and how unawareness of that advantage helps perpetuate racism. We'll discuss short readings and share everyday situations in which we did not speak up effectively against racial bias. Using role-playing, we'll work out effective ways to respond. Participants will develop specific plans for challenging racism, in your workplace, organizations, community, and personal circles. You will be encouraged to find other people in your life who can provide support and serve as allies in your efforts.
Visit the WPCR website for more information and to register for WPCR classes.