PORTIONS OF THIS SOLD-OUT EVENT ARE NOW AVAILABLE AT A SATELLITE LIVESTREAM LOCATION IN PORTER SQUARE, CAMBRIDGE.
FOR MORE INFORMATION:
FRIDAY SESSIONS:
SATURDAY SESSIONS:
Greetings Friends and Community Members,
Community Change Inc.  is very heartened to share that the first-ever New England White Privilege Symposium (WPS-NE) in partnership with The Privilege Institute will be held Oct. 14-15, 2016, at Lesley University in Cambridge.
The now sold-out White Privilege Symposium is a project of The Privilege Institute, a 501(c)(3) best known for its annual conference, the White Privilege Conference (WPC). Now in its 18th year, and selling out weeks in advance, The Privilege Institute is responding to growing demand by creating regional conferences across the U.S. and Canada. Philadelphia, San Francisco, and New York City have already hosted successful regional symposiums. This fall, Ontario, Canada and the New England region will add to the growing list of regions bringing the WPC brand to their area.
The national conference is a powerful gathering designed to move professionals and learners from diversity and inclusion frameworks to models that comprehensively challenge white supremacy's multiple and entwined forms of oppression. These events fuel longtime practitioners by offering cutting-edge thinking, current trends, and groundbreaking initiatives. Unlike many conferences that are sector specific (healthcare, education, criminal justice), or ISM specific (racism, classism, homophobism), WPC gathers a cross-sector group of participants to address multiple oppressions at the individual, interpersonal, institutional, and cultural levels. To see programs from past conferences: White Privilege Conference - Program.
CCI is proud to be a part of the host team working to bring this symposium to the area.
Program at a glance: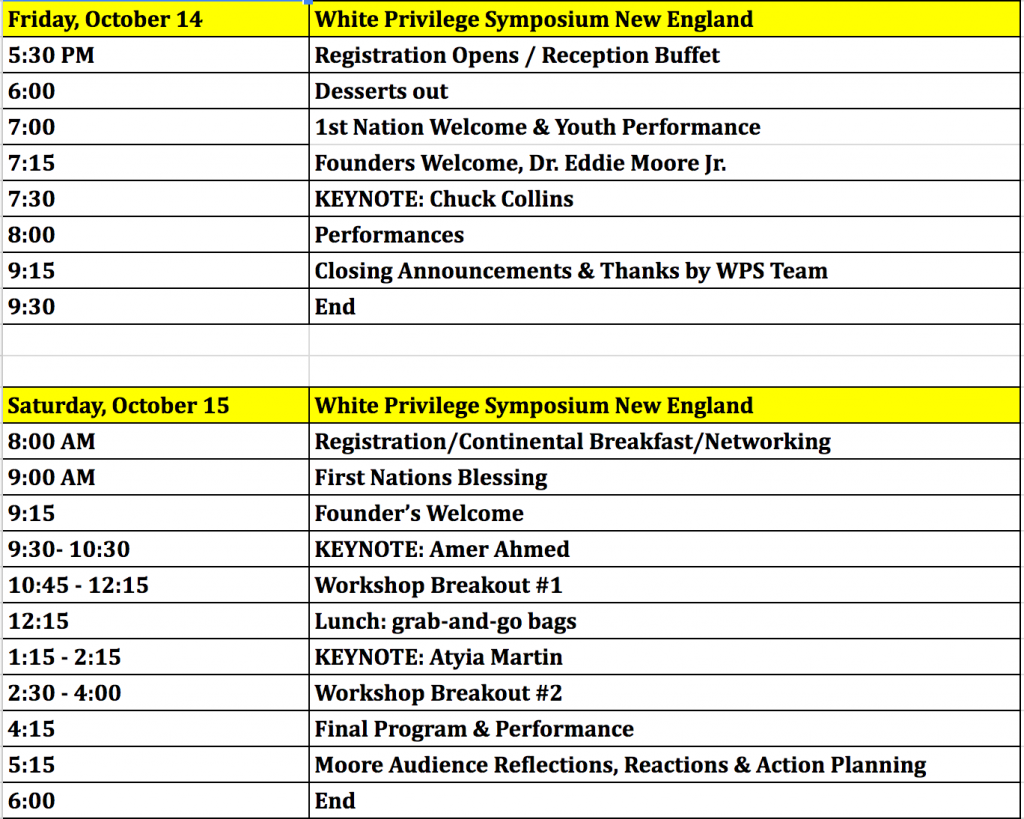 These hard-working coordinators welcome your specific WPS/NE questions:
Budget: Shay Stewart-Bouley at shay@communitychangeinc.org
Communications and Marketing: Debby Irving at debby@debbyirving.com.
Event location/catering/A-V: Ann Moritz at annmoritz@comcast.net
Fundraising: Ann Moritz at annmoritz@comcast.net
Registration: Shay Stewart-Bouley at shay@communitychangeinc.org
Sponsors and marketplace: Ann Moritz at annmoritz@comcast.net
Volunteers: Jenna Chandler-Ward at jenna@multiculturalteaching.org
Program: Speakers, Performances, and Workshop presentations:
Joe-Joe McManus and Catherine Wong at mcmanus@rootstrong.org and catherine.wong.2@bc.edu
We look forward to seeing you in October!
Stay connected by following us on Twitter @WhitePrivNE
or
follow us on Facebook https://www.facebook.com/whiteprivilegenewengland/
Thank you to our generous partners, sponsors and host committee: 
Partners
The Privilege Institute
Lesley University
Event Sponsors 
(List in formation)
The Boston Foundation - Understanding Level
Anonymous- Respecting Level
The Fessenden School -Respecting Level
YW Boston- Connecting Level
Lois Lindauer Searches- Connecting Level
Multicultural Teaching Institute- Connecting Level
Davida A. Carvin - Connecting Level
Mill River Fund- Ally Level
Episcopal Divinity School- Ally Level
UU Urban Ministry- Ally Level
AISNE- Ally Level
SEED - Ally Level
SRI - Ally Level
First Baptist Church of JP- Friend Level
Episcopal Diocese of MA- Friend Level
The Park School-Friend Level
Host Committee Members
Alison Brill
Michelle Chalmers
Community Change Inc./ Black Girl in Maine
Debby Irving
Diane D'Souza
Mary Kinsell
Moritz Advisory Group
Jenna Chandler-Ward
Rootstrong
Catherine Wong
Wheelock College
WorkVision
Katie Ernst
Keynoters:
DR. S. ATYIA MARTIN, DLP
Dr. Martin is Chief Resilience Officer for the City of Boston, which is part of the worldwide 100 Resilient Cities pioneered by the Rockefeller Foundation. Dr. Martin also teaches at Northeastern University in the Master of Homeland Security program. Previously, she was the Director of the Office of Public Health Preparedness at the Boston Public Health Commission. Dr. Martin earned her Doctor of Law and Policy from Northeastern. (Photo credit: StillBoston)
DR. AMER F. AHMED, EdD
Dr. Ahmed is an intercultural diversity consultant, college administrator, facilitator, poet and Hip Hop activist. He is Director of Intercultural Teaching and Faculty Development at UMass/Amherst. He facilitates diversity across multiple human differences. His Anthropology and Black Studies specialties are enhanced by study abroad in South Africa and Nepal. His Indian-Muslim-American upbringing reinforces his respect for the dignity of all people.
CHUCK COLLINS
Mr. Collins is a researcher, agitator and storyteller based at the Institute for Policy Studies where he directs the Program on Inequality and the Common Good and co-edits Inequality.org.  He is co-author of the recent report, Ever Growing Gap, about the racial wealth divide. His newest book is Born on Third Base: A One Percenter Makes the Case for Tackling Inequality, Bringing Wealth Home, and Committing to the Common Good